The last post wandered away from the GABF memoir towards our trip to Seattle last April, so I'd better start from there.
We finally made our Hajj to the great Mecca that is the Pacific NW. Thanks to the Brewer's Association planning the Craft Brewer's Conference and World Beer Cup in such a great beer destination, Andrew and I were off. Fresh off the previous fall's unbelievable(in our eyes) bronze medals at GABF 2005, we sent five beers to the World Beer Cup competition. Regardless of the outcome, we were in Seattle baby! Microbrew, coffee, and rain. Awesome!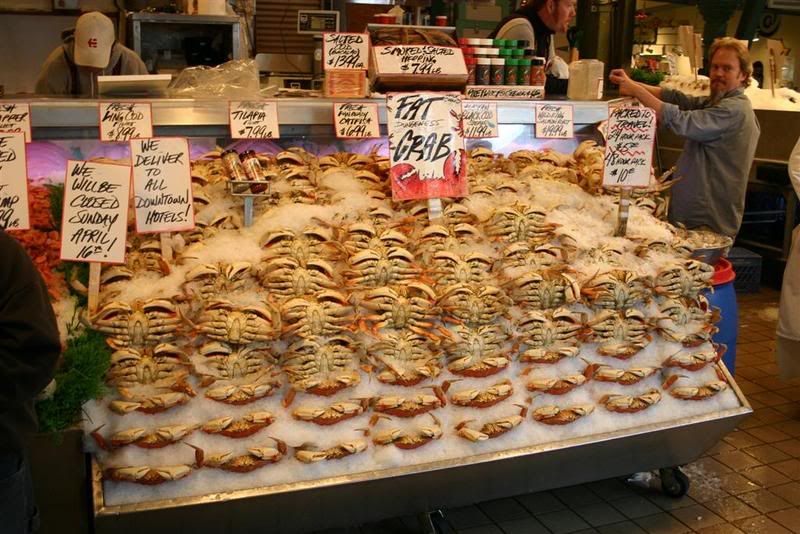 During the Awards dinner I continued to pelt Andrew with the, "no expectations" , "no worries on a shut out" routine I go through every time so that I'm not too disappointed when we don't win. I'm certain that he is terribly sick of my routine which has now just become a nervous habit. Regardless, it feels twice as good to win a major brewing award after you've convinced yourself that you are going home empty handed.
Well, we didn't. First it was the Pullman Brown. Gold in the specialty category. The most award wining beer in our stable and possibly in Chicagoland(the jury is still out) finally took a Gold. As much mileage as that beer had traveled in ten years, it finally held the top spot. And it goes without saying that a gold at World Beer Cup just made those bronzes turn a shade more pale.
Next up was our crazy experiment, De Wilde Zuidentrein. We made a Flemish brown ale(sort of) and aged it in oak white wine barrels. We aged it on fresh raspberries. Later we put it in stainless vessels and aged it seperately on two strains of wild Belgian Yeast, Brettanomyces. Finally we blended that to our liking. Then, crazily, we stuck it in Belgian sour beer. You might have heard of some GREAT American beers in this category, La Folie, Cuvee de Tomme, Supplication et al, not to mention the great entries that would be coming straight out of Belgium. Plus, there were Belgian brewers in the judging pool. How could we win? Well, we didn't, but second place with one of my all time favorite beers, Rodenbach, above us and Dogfish Head right behind--good company. Remember lesson #3 about selling yourself short-don't do it.
Of course we were blown away and later I remembered a moment I would like to forget. It wasn't quite Tome Cruise on Oprah's couch, or even that Italian dude at the Oscars who climbed over the seat, but I did get excited. I'm back stage getting the actual award and I see Dogfish Head's Sam Calagione walking ahead of me. Great beer, Great brewer, Great guy, so I holler ahead my congratulations, he says thanks, and I look behind me to see the Rodenbach brewer/rep? accepting the award. I begin to babble on and on about how much I love Rodenbach and all the beers they make. He politely thanks me and gently says, "and who are you?" I wanted to shout wildly, I'm Matt from Flossmoor Station and I can't believe my little beer was judged second behind Rodenbach and ahead of so many other fantastic and inovative sour beers!-but I didn't.
Lesson#5 Know when to shut up and smile
.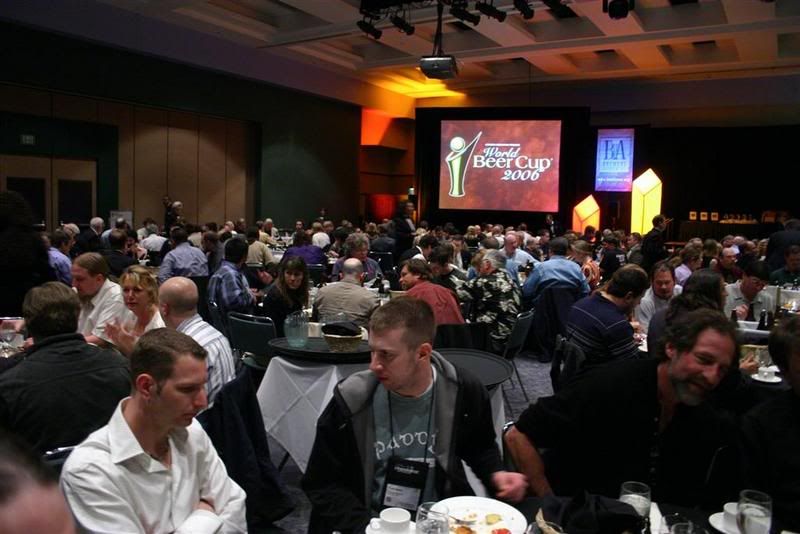 A gold and a silver at my first World Beer Cup. And to think, I didn't enter in 2004 because I was trying to keep cost down. hmmmm.. costs WERE down, but I digress.
Lesson# 6 You can't win if you don't play.
So, I've wandered quite far from GABF 2006, but I wanted to set a back drop and show you just what has happened in the short span of 12 months leading up to this year's GABF. Things just kept getting better and better. Likewise, sales at the pub continued to gain. Everyone was happy. We also tried hard to keep focusing on the beer and always making high quality beer at the pub. I felt the last thing you want to do is put all your energy into winning stuff and forget about who pays the bills. To me, it was important(and still is) to stay as humble as possible and remember it's all about the beer. Nothing else. I want to make that point clear. The stories I am recounting makes it sound like the focus is the awards. If you make beers that people like and also you like that are of the highest quality, the awards will take care of themself.
Lesson#7 Stay focused on the important things.
Next post: It can't possibly get better...can it?