So it turns out that if you win Small Brewpub of the year, when you come back, there is still the same amount of work to do around the brewery. I seem to remember this being the case last year when we won three bronze medals, but somewhere along the line I forgot about that point. AND, since I was busy with doing regular work, moving into a new apartment with the girlfriend, and catching up on work at Mickey Finn's nothing much has changed here on the blog. So without further ado,
Denver Day 1
.
The day of getting in usually entails getting settled into wherever you are staying, hitting up
Wynkoop
for the Brewer's Reception, and then making your way over to the mad house that is
Falling Rock
. This year was no exception.
However, this year after we got unloded at the place we were staying, the
Chicago Fire
were just about to kick off the final game of the U.S. Open Cup, in Chicago, at new Toyota Park, and I wasn't there to see it. Instead I went to the
British Bulldog
, a soccerish pub in Denver and watched the Fire destory the L.A. Galaxy 3-1 to capture our 4th U.S. Open Cup. The Fire is the most winningist team in the history of the tournament which dates back to 1914.
So riding off the elation of my team winning another championship, I told Matt it really didn't matter if we won any awards in Denver this year or not. I headed over to Wynkoop just long enough to shake a few hands, stuff my face full of free food, and down two shots of
Colorado Whiskey
in celebration of the Fire.
Some Illinois people were already at the Falling Rock so we made our way down the street to check out what Denver's best beer bar had to offer for the evening.
Mike Rybinski from America's Brewpub in Aurora brought his own darts to try to show up the ever competitive Pete Crowly from Rock Bottom Chicago. Pete makes a pretty good stout over there. It picked up bronze in the
American Style Stouts Category
.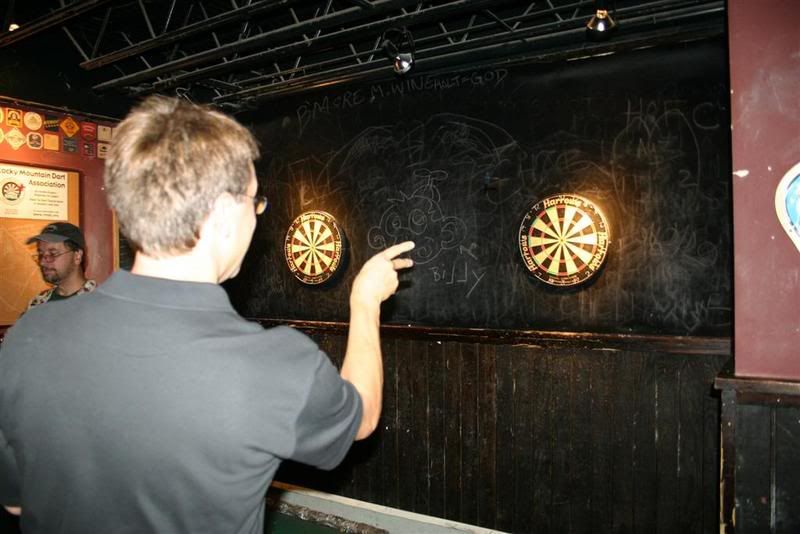 Mike is serious about darts.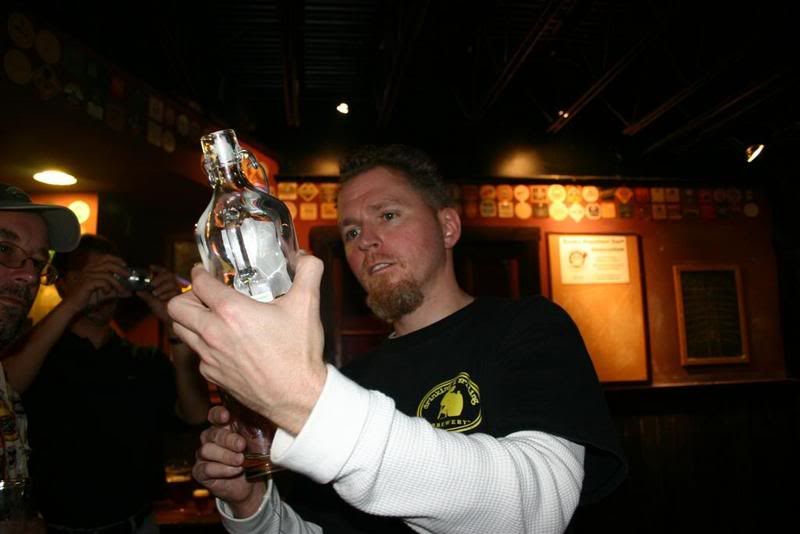 That is Pete drinking some kind of German spirit that is either distilled from, or spiced with Hops. It was interesting to say the least.
End of Day 1