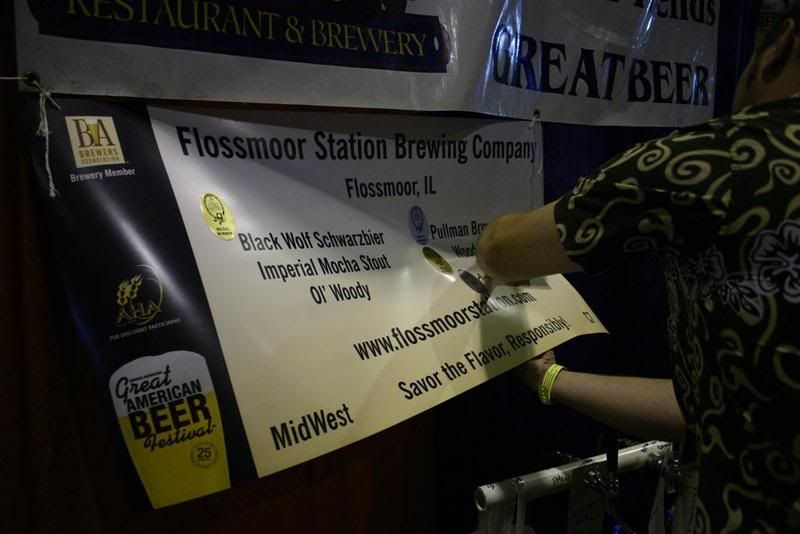 I've waited a little bit to find out if reflecting back on the day would alter the way I tried to tell the story of winning it big. Certainly trying to explain things on the Saturday we won would be confusing. I had a nauseous feeling for hours afterward because it seemed very unreal. I had a lot of adrenaline to work out of my system. I don't know Matt's feelings on the issue, they very well may be different from mine, especially since his name is on the award, not mine, but not a lot seems that different now that a few weeks have gone by.
We've received some good recognition and some very kind words from other brewer's and fans from around the U.S. but you still go back to work like everyone else. Maybe Small Brewpub of the year will seem to have a bigger impact on things a year down the road or even farther out. This coming Saturday (October 21st) we will be having a big party at Flossmoor to celebrate. Music, food, $3 pints, maybe even t-shirts if they can get made in time. Hope to see you guys there, it should be a good time.
So here is the story of
Day 4. The Awards.
It still seems like a blur so some of the details may have been changed to protect the innocent. Matt and his two college friends were watching quite a bit of College Game Day on ESPN because their Hawkeyes were playing #1 OSU that day and they were all hoping for an upset with Iowa coming out on top.
It's a nervous day. You wish all of your friends good luck. They pretty much all have beers in competition just like you do. A lot of them are probably up against your beers in the same categories. I had the categories list in front of me with the seven categories we had entered circled. 6, 7, 10, 11, 12, 28, and 55. We struck out on 6, Coffee Flavored beer. Later when we got our judging notes back we found out that it went on to the 2nd round (or the medal round if it was a smaller category) but wasn't good enough for a medal. We actually found out that all of our beers except De Wilde Zeiudentrein, our World Beer Cup silver medal winning, belgian-style sour frambozen, went onto the next round. Fairly shocking. It's hard to have even one beer move onto medal consideration, let alone 6 of your 7 entries.
Well, when we didn't win with the Imperial Mocha Java Stout, I had kind of a crappy depressing feeling, because I thought that was one of our stronger, if not strongest entries of the seven. But when you have beers in nearly back to back to back to back to back categories you don't have too much time to think about it because before you know it, Pullman got called up for a silver in the specialty category.
It was really exciting. We had won a bronze the year previous at GABF for Pullman and won Gold at World Beer Cup with it as well. Another solid award for what has proved to be a very solid beer over the years. Next Jonathan Cutler won Gold in the Rye Category for Worryin' Ale, which he also won Gold for at the World Beer Cup. Go Piece!
Experimental we won Silver for Angry Mike's, which was double awesome because we sent our very last 6 bottles out for judging and it won. Then we beat out Sam Adam's Utopius which we also beat out at the
Festival of Wood and Barrel Aged Beers
here in Chicago last year. So sorry Jim.
Nothing won in Wood and Barrel Aged beers, but winning bronze for Wooden Hell was very surprising. There are an incredible amount of strong barrel aged beers being produced in the US and to pick up even bronze in that category was a big honor.
And then we had a bit of a wait ahead of us. I couldn't stop grinning because we still had two beers left and had already done better than last year. A number of people had told me that the Schwarz was tasting good and that they were impressed with it, but I had no real idea that it would do as well as it did. Winning gold was mind blowing because 1) we get to make about 2 lagers a year at Flossmoor and that was one of them 2) the yeast we used was 3rd hand transferred around Chicagoland and 3) neither of us had ever made a schwarz before. I guess Matt has the Midas touch.
By this point, we were keeping track of who had won what. Pelican was picking up awards right and left, and big ones at that. We thought that if we had a chance of winning Small Brewpub it would have to be because they didn't do as well as we did. The Sour category came up empty for us, which was disappointing because it did so well at World Beer Cup, but 4 medals was not exactly anything to cry about. Pelican had an astounding three golds and two silvers by the end of the ceremony and had won small brewpub of the year last year, so we pretty much knew that we would just have to be happy with our gold, two silvers, and a bronze.
They announced Large Brewery, Mid-sized, and Small, and came to Large Brewpub. When they said that Pelican Pub had won Large Brewpub of the year Matt and I looked at each other dumbfounded. I thought that I had crapped my pants. We knew that no one else in our size had come close to Pelican, and unbeknownst to us, they had made over 1200bbls of beer and been stepped up to the large brewpub category. Without saying it, we both sat as Penny from Briess came up to the podium, and we knew that she was going to say Flossmoor. It was like if either of us said anything it wouldn't be true, we would have jinxed it somehow. But then that was it. We were small brewpub of the year. We received our awards, took pictures, and when we came down all of the Illinois brewers were there waiting for us. It was a really special moment, and one that I know I won't be forgetting anytime soon. I doubt that I will ever be up on that stage again accepting that award, so I feel incredibly fortunate.