-Hop Talk picked this month's topic-
"So, we want to know about the "Atmosphere" in which you enjoy beer. Where is your favorite place to have a beer? When? With whom? Most importantly: Why?"
This is a really tough one, and I'm not going to be able to do justice to such a broad topic on this blog. I think I'll dig through my photo archives and find places that I have had some great drinking experiences and talk a little about them.
-Belgium-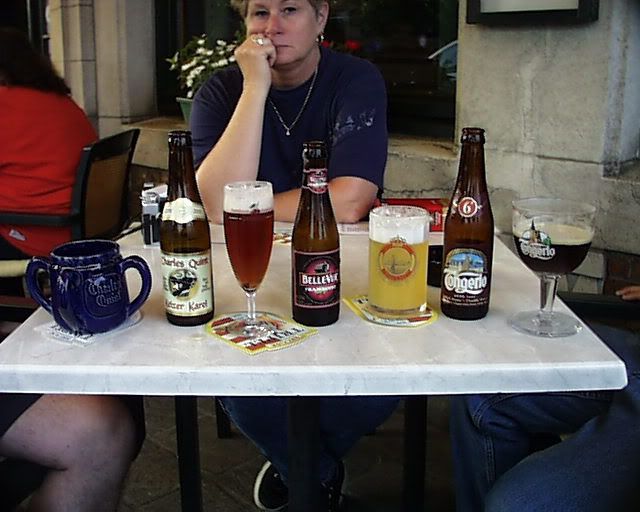 Belgium, just about any cafe will do that has a lengthy beer list. The whole country is amazing. This was in Bruges in 2000 when I was traveling with my family. One day we had a Chimay lunch, which was Chimay cheese and a few different bottles of Chimay in a park with some crackers. The simplicity was perfect.
-Munich -Augustiner Brauhall-
To me, this is the quintessential beer hall in Munich. Long maple tables, incredible German lagers, and full of local Muncheners. The pork knuckle is to die for. I had thanksgiving dinner in this beer hall one year. Maximator dopplebock, from the source... I'm drooling right now.
-Bamberg- Brauerei-Spezial
There are a lot of really great places to drink in Bamberg but this one was the first I went to so it has a special place in my heart. Whenever you are in Bamberg, the "rauch" seems to permeate your entire being. Some people never develop the taste for Rauch beer but I fell head over heals for it. The smoky bite balanced with that crisp lager finish makes me want to have one after another. I remember at Spezial, they had a little probe that they would put in your beer before serving it to slightly warm it up. This was another place where we were the only tourists. Everyone else was just a local having lunch or enjoying a smoky marzen.
-Flossmoor IL- Flossmoor Station Brewing Co.-
More than just a shameless plug, there is a special feeling about drinking a beer that you made that tastes really good, at the place that you made it. It's very hard to explain unless you have done it yourself, maybe only fellow brewers can fully appreciate it. But there is a lot to be said about drinking beer in its "home."