This past weekend I went to one of the coolest events I have ever been to.
CBS
put on Curds and Ale, a beer and cheese pairing event that was hosted at Rock Bottom Chicago. There was an incredible amount cheeses that were well worth the $30 entry fee. Even if there were no beers here, it would have been a deal. Check out this list.
America's Brewpub Barley Wine with Gore Dawn Zola, a very intense Gorgonzola style American artisanal cheese.
Blue Cat Tripel, with Brigid's Abbey Trappist style cheese
Brass Hefeweizen, with Burrata, a fresh mozzarella stuffed with curds and cream
Dogfish Head 90 Minute IPA, with Golden Ridge Blue
Flossmoor Station Pullman Brown, with ColoRouge Camembert
Emmett's Dunkel Lager with Fair Oaks Farms Sweet Swiss
Goose Island (Pub) Maibock with Fair Oaks Farms Triple Cream Butter Käse
Goose Island (Fulton) Matilda, with Haystack, a ripened goat cheese
Goose Island (Fulton) Père Jacques, with Green Hill Sweet Grass Triple Crème
Lindemans Framboise with Redwood Hills Fresh Chèvre
Mickey Finn's Kölsch with Butter Käse
Okocim Polone, a very lightly smoked schwarzbier, with Roth Kase Vintage Van Gogh, a Gouda aged 18 months or more
Onion Doppelbock, with Jasper Hills Bayley Hazen Blue
Prairie Rock Smoked Porter with Fair Oaks Farms aged gouda
Rock Bottom (Warrenville) ESB with Roth Kase Knight's Vail, a delicate rinded semi-soft cheese
Rock Bottom (Chicago) Hoppy Robust Porter with Lack's 9-Year Cheddar, a small Wisconsin producer
Rock Bottom (Chicago) Barrel-Aged Imperial Stout with Winchester Farms Boer Kaas, an intense, dry-aged Gouda
Rogue Ales: Chocolate Stout with Rogue Creamery's Chocolate Stout Cheddar, a mature Cheddar infused with Rogue Ale
Rogue Ales: Shakespeare Stout (and/or Black Soba, or Chipotle Ale) with Rogue Creamery's Smokey Blue, a blue cheese that's cold smoked for 16 hours over hazlenut shells
Samuel Smith's IPA with Neal's Yard Westcombe Cheddar, a mix of Stilton and Cheddar
Stockholms Dunkelweiss, with Redwood Hills Goat Milk Camembert
Three Floyds Dark Tripel, with St. George, a dry, artisanal aged cows milk cheese
Two Brothers Dog Days Dortmunder, with Canasta Pardo, a sheep cheese with a very delicate dusting of cinnamon
Here are some pictures from the afternoon.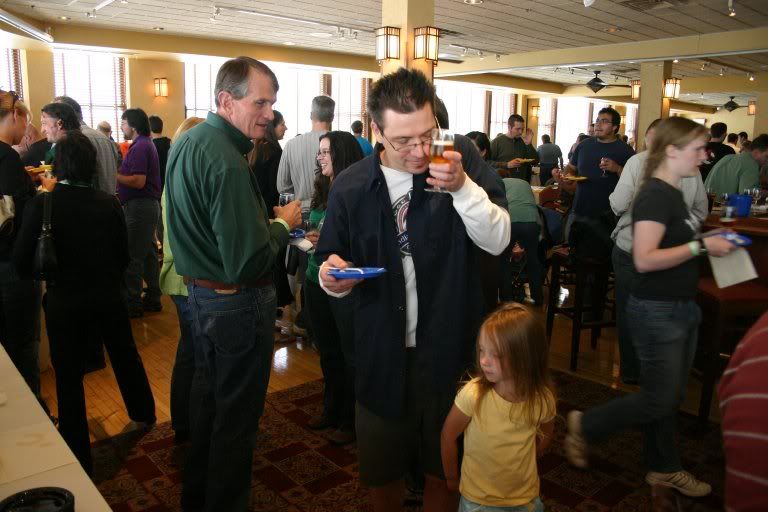 Will Turner corraling his oldest.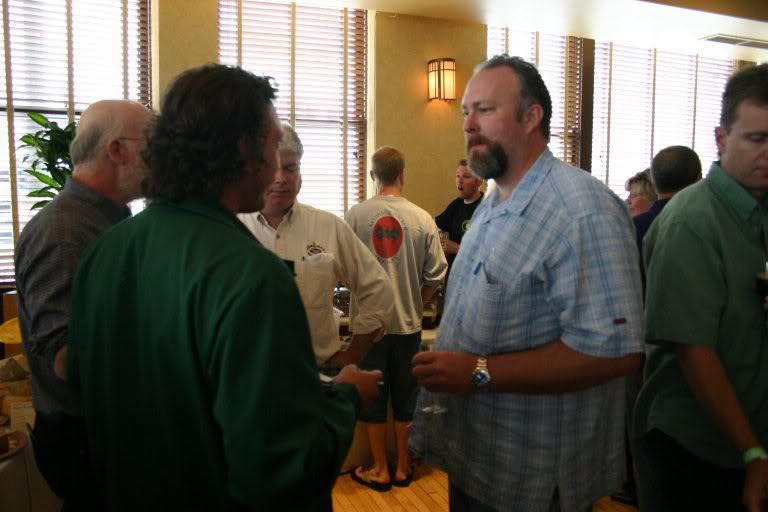 Greg Browne patiently listening to someone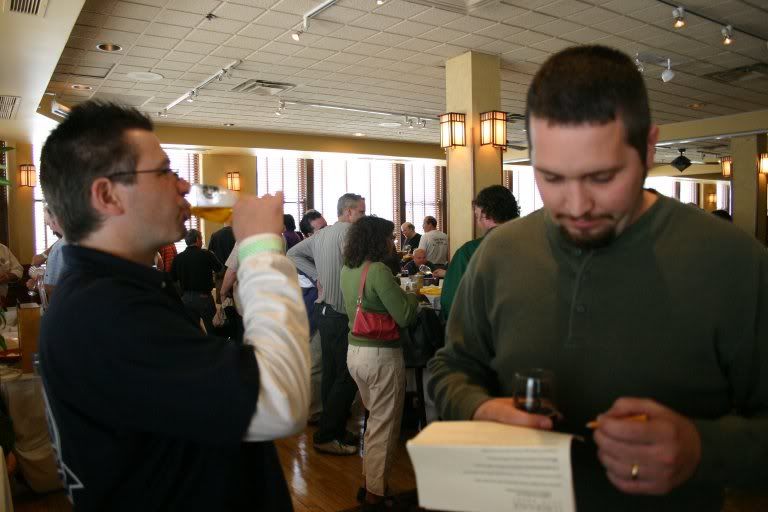 Matt trying to decide what cheese comes next